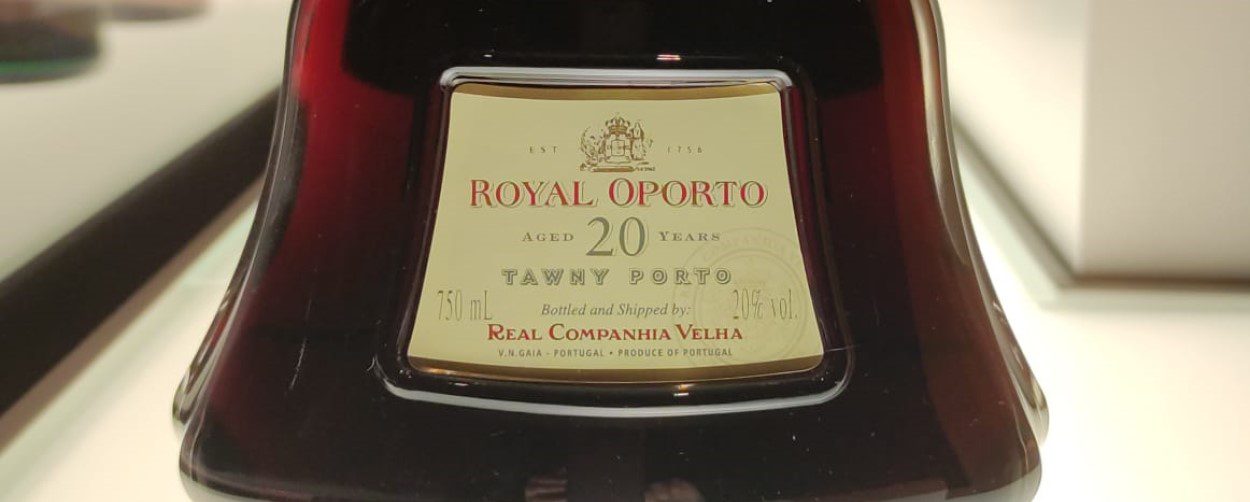 Object of the Month - April 2022
Every month the Museum of the Oldest Appellation in the World highlights one of the objects that are part of the collection shown in our permanent exhibition. We invite you to discover the object of the month and find out more about our history.
"This superb old Tawny was patiently matured for 20 years in the celebrated lodges of Real Companhia Velha at Vila Nova de Gaia. Rich, with a mellow fruity taste, this fine Port has developed a remarkable velvet flavour, the result of long and careful ageing in selected oak casks."
This item is part of a set of Port wine historical bottles of various ages illustrating the design evolution of Real Companhia Velha labels and wines over the centuries.This Royal Oporto 20 Years Old Tawny was bottled recently, in 2017. Its bottle has a very unique design, in line with the rest of the Royal Oporto Tawny wines.
Regarding the winemaking, the Ports selected for the blending of Royal Oporto 20 years wine are fermented in the traditional lagars, which allows a strong extraction for power and structure, necessary for the ageing process carried out in oak barrels. This amber colored Port wine, presents an aromatic complexity composed by notes of dry raisins and nuts.
Material
Glass, paper and cork
Date
2017 (bottled)
Collection
Real Companhia Velha
Dimensions
Height: 24 cm x Length: 13,5 cm x Width: 10 cm x Bottleneck diameter: 2,6 cm